Origin
Facilities
Awards & Media
Become a Member
Photo Gallery
Singapore's First and Leading Luxury Day Spa
Inspired by the natural thermal spas in Southern Italy, ESTHEVA continues the ancient art of enhancing beauty and wellness in a relaxing and luxurious spa environment, just by The Lawn at Singapore's famous and grand Raffles Hotel in its Shopping Arcade, right in the bustling Central Business and Heritage District.
It is rare for a day spa in Singapore to be able to provide an exquisite and unrivalled range of signature beauty facials and treatments, the latest anti-aging therapies, the most blissful bodyworks and massages, the highest quality skincare products, in a tranquil and luxuriously elegant spa environment, and with an unsurpassed level of personalised spa services. And exclusively for ladies and couples.
The spa in Singapore has garnered a distinguished reputation over the years as a top luxury day spa in Singapore for well-heeled tourists, expatriates, famous celebrities and the local community. It has also been prominently featured as a famous Singapore tourist attraction by Singapore Tourism Board and in various prestigious overseas spa magazines.
We look forward to your visit to our spa, whether you are a local resident, expatriate or tourist visiting Singapore. And maybe grab the famous Singapore Sling at Raffles Hotel after your favourite spa treatment.
---
ESTHEVA Spa is honoured to be in the legendary grounds of Raffles Hotel
We're within walking distance and a highly popular spa with expatriates and tourist guests from the following prestigious international hotels in Singapore, in the busy financial district. Your hotel conceirge will be most delighted to assist.

We also frequently receive tourist guests from the following top luxury hotels, especially those in the Orchard Road tourist belt in Singapore:
Four Seasons Hotel Singapore
Hilton Hotel
Grand Hyatt Singapore
Meritus Mandarin Singapore
Park Hotel
Royal Plaza on Scotts
Shangri-La Hotel
Sheraton Tower Singapore
St. Regis Singapore
In addition, we are well-patronised by residents of the following centrally located and well-appointed and luxurious serviced apartments and hence a well-known spa haven to many expatriates, especially couples residing in:
Darby Park Executive Suites
Far East Plaza Deluxe Serviced Apartments
Le Grove Serviced Apartments
Leonie View Serviced Apartments
Leonie Condotel
Shangri-La Serviced Apartments
Orchard Scotts Serviced Apartments
Orchard Parksuites Serviced Apartments
Regency House Serviced Apartments
Shangri-La Serviced Apartments
Somerset Compass
Somerset Grand Cairnhill
Somerset Orchard
The Ascott
Treetops Executive Residences
Disconnect from the busy world and enter into a state of true peace and inner self and beauty.
As Singapore's first and most exclusive Esthetics Spa, ESTHEVA has created a luxury haven in an enchanting and romantic environment with top spa facilities in the famous Raffles Hotel in its Shopping Arcade, just by The Lawn for you and your loved ones as a couple, to enjoy your favourite beauty, massage and spa therapies.
With our spa in the legendary grounds of Raffles Hotel, going to a spa will never be the same again in Singapore. We are indeed honoured to be voted again Singapore's Top Day Spa in Tatler's The Best of Singapore 2015 and to emerge the biggest spa award-winner in the prestigious Harper's Bazaar Spa Awards 2013 with 6 spa awards. We are also proud to be the only Singapore spa to be named in Conde Nast Traveller's list of Asia's Best City Spas for 2011. We will continue to innovate and develop new treatments and to improve our services to our loyal and new clientele.
This is where the air is filled with the scent of delicate and aromatic essential oils and fragrance of fresh blossoms, and the mood is serene with restful music.
Our full-fledged luxury spa facilities, with well-appointed and spacious spa treatment rooms (for individuals and couples) include:
• Personal Aromatic Steam Cubicles
• HydroTherapy Tubs
• Latest Spa Beauty Equipment
• Spa Retreat Space
• Couple Spa Suites with Built-in Hot Showers
• VIP Spa Suites with Built-in Hot Showers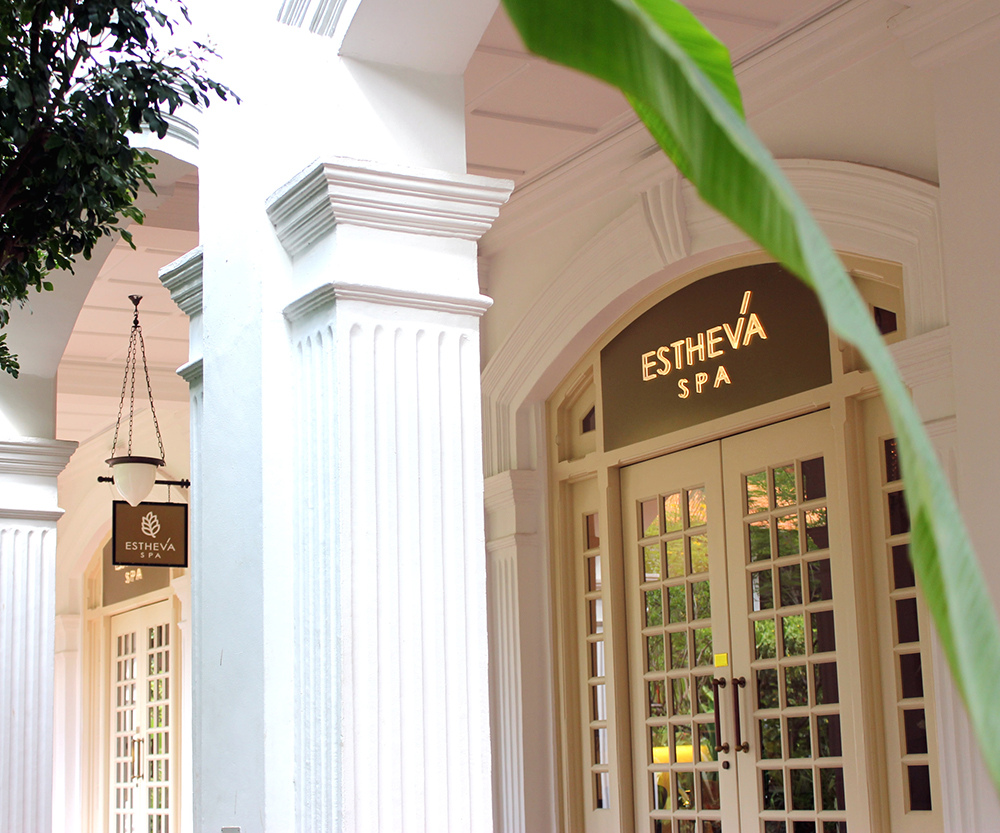 This is where you can disconnect from the busy world and enter a state of true peace and inner self and beauty in Singapore.
It is no wonder that our day spa is highly popular with both local and expatriates, residing in Singapore and regular overseas visitors and tourists (and of course, loving couples and honeymooners).
ESTHEVA is truly honoured to be highly recommended by Singapore Tourism Board as a top day spa for an Ultimate Spa Indulgence in Singapore on its official website. Likewise, we have also been highly rated by prestigious overseas spa publication as a top luxury spa in Singapore for tourists – see spa feature in Spa Life, Korea. We are also a preferred and frequent spa partner and sponsor of Singapore Airlines for their PPS Club members.
Premier Spa Membership with Exclusive Privileges
Join ESTHEVA's Beautiful Life Membership and indulge in some of the best and most indulging spa facials, body treatments and massages in Singapore with Member's Discounts and other spa privileges.
It's definitely one of the best Spa Memberships you can get in a top luxury day spa in Singapore, known for its high service standards and professionalism and which is highly recommended and promoted by Singapore Tourism Board. It is an award-winning spa consistently voted as Top Day Spa in The Best of Singapore by Tatler Singapore for 10 consecutive years (only luxury day spa in Singapore to achieve that). And we are also indeed very honoured (only Singapore spa) to be listed and featured in Conde Nast Traveller's list of Asia's Best City Spas to visit in 2011 (see spa coverage).
Spa Members get to enjoy the following Exclusive Privileges:
1. Day Spa Membership Fee is fully redeemable for beauty and spa treatments – no monthly or annual subscriptions. Hence, every single dollar is fully utilised for spa treatments and what's more, at attractively discounted Members' rates.
2. Enjoy Member's rate with 15% discount on all spa treatments. Absolute good value for your money.
3. Enjoy exclusive Members only Loyalty Privileges with our Day Spa Member's annual spa product rebates and special spa promotions.
4. Purchase spa gift certificates at Day Spa Member's Price.
5. Your spa guest can enjoy spa treatments or spa packages on her first spa visit at Day Spa Member's Price.
6. 50% off on your personal spa treatments when you bring 4 to 5 paying spa guests for your Birthday Spa Party.
7. Priority spa booking for peak periods.
8. Enjoy your spa treatments in our VIP Spa Suites or Spa Couple Suite with your loved ones.
9. Personal beauty and spa consultation.
10. Invitation to New Product/Spa Treatment launches and spa events.
11. Use of AromaSteam and enjoy spa refreshments in our Spa Retreat Space.
---
We are also a preferred spa partner and sponsor of Singapore Airlines for their PPS Club members, and private banking institutions for their affluent clients in the Asia Pacific region.
No other luxury day spa in Singapore gives you more value for your money for quality of spa treatments and service, ambience and exclusivity.
Buy Estheva Membership