Asia Spa, India | Times Life, Times of India
[Special Overseas Spa Feature]
A Uniquely Singapore Spa Experience for Indian Tourists
Once again, we are proud to be prominently featured and promoted by Singapore Tourism Board. This was in a 4-page spread spa review which featured ESTHEVA Spa as a Uniquely Singapore and luxuriously hip day spa to draw Indian tourists to Singapore, in Asia Spa Magazine (India edition) in 2006 – see picture below. The feature also mentioned our spa as an attraction to Bollywood celebrities.
First Spa to Introduce The Use of Chocolate in Spa Treatments in India
At the same time, ESTHEVA Spa also enjoyed extensive national media coverage and publicity on India's television stations, newspapers and other print media when it promoted its signature Choc De-Ager© and Celebrity.Peel© spa treatments in New Delhi at India's first Spa Summit and Conference. This was capped by a spa review feature by author Rashmi Uday Singh in Times Life, Times of India. As a result, we were the first spa to introduce the use of chocolate in spa treatments in India, besides in Singapore. At the same time, ESTHEVA was reportedly the most talked-about spa in New Delhi and other major cities in India during that period.
Promoting Singapore As a Top Tourist Destination To Indian Travelers
But, most of all, we are truly honoured to be the only Singapore luxury spa chosen and supported by Singapore Tourism Board at this prestigious event. Obviously, that decision paid off handsomely. Many major newspapers and especially television stations across India covered ESTHEVA Spa with our chocolate-inspired spa treatments in their prime time news. And thus, helping to position Singapore as a top tourism destination in the minds of many affluent Indians.
Pampering Indian and Bollywood Celebrities
Even Yana Gupta, a top Indian model and Bollywood actress was obviously more than wowed. She endearingly exclaimed, "Pure indulgence! I pampered myself with a sensuous chocolate massage" after her Choc De-Ager© experience in ESTHEVA Spa in Singapore. And this had also eventually prompted Priyanka Chopra, India's top actress (and now in Hollywood) to write about craving for our Choc De-Ager© in Hindustan Times, New Delhi.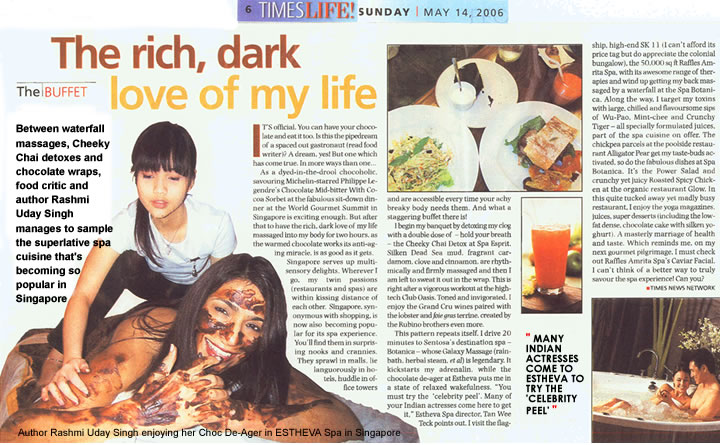 Singapore's Most Famous Spa Treatment
Not to be outdone, India's renowned food critic and author, Uday Singh, was caught tasting the chocolate, while luxuriating in her Choc De-Ager© at ESTHEVA Spa in Singapore. She lovingly lauded that the Choc De-Ager really put her in a state of relaxed wakefulness. Invariably, this had also led to many Indian actresses (it's no beauty secret) coming to ESTHEVA to experience our other well-loved signature and skin-transforming Celebrity.Peel© as well, for a beautiful, younger and glowing complexion.
Hence, Choc De-Ager© is probably the most famous and publicised spa treatment in Singapore. And not to mention the numerous accolades it had garnered in other parts of the world, especially in Asia.
Indulge in An Exotic Chocolate Spa Treatment in Singapore
Therefore, our chocolate-inspired spa treatments and massage (Chocolatier Massage) are a must-try experience as prominently featured by Singapore Tourism Board. So, indulge in one when you are in Singapore.