Ageless Beauty for Your Skin
AgeLes.Peel© Facials is a 2-in-1 age-management ritual with a light professional micro-dermabrasion, augmented with state-of-the art transdermal delivery, DEP. Therapy for an invigorated delivery of collagen, elastin or Vit. A, C and E to your skin for that immaculate youthful glow. It redefines what ageless skin should be and look like.
Our friendly professional facialists will advise you on which facials are best for your skin and needs.
AgeLes.Peel© Facials
[download Anti-Aging Spa PDF Price Menu]
In Search of the Best Anti-Aging Facials in Singapore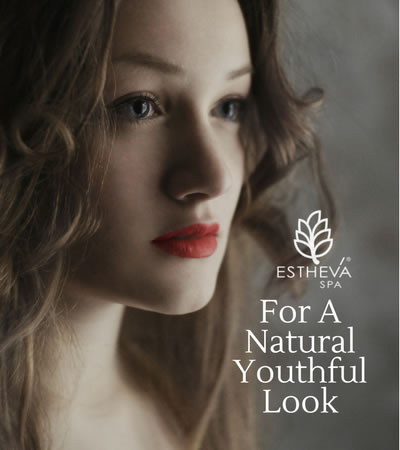 When it comes to luxurious, high-performing and some of the best anti-aging facials in Singapore, ESTHEVA has quite a few. The winning formula for our highly advanced lifting facials for women is relatively simple but comprehensive. First, our professional therapist will skillfully render our signature AgeLes.Peel©, a light professional microdermabrasion facial. Then, DEP.Therapy, a state-of-the art transdermal delivery will enhance the absorption of collagen, elastin and Vitamins A, C into the skin. This will certainly and immediately impart a fresh and ageless glow to the skin. ESTHEVA is the first spa in Asia to offer this highly-effective unique 2-in-1 facial treatment with almost magical and instant age-defying results.
Our Age-Defying Non-Surgical Beauty Secret
AgeLes.Peel© is a non-invasive, non-surgical beauty secret of those in the know, in which the skin is gently smoothed to instantly reveal lost shades of youthfulness. Therefore, in the able hands of our experienced therapists, the precise micro-dermabrasion steps will dramatically leave your skin softer, brighter and younger-looking. The best thing is that despite a mild stinging sensation immediately after, you can head right to a cocktail party.
The full range of AgeLes.Peel©, with and without DEP.Therapy includes:
AgeLes.Peel© for Eyes
(45min)
Book Now
S$166 (b/gst)
AgeLes.Peel© for Face
(1hr)
Book Now
S$253 (b/gst)
AgeLes.Peel© for Face Whitening
(1hr 30min)
Book Now
S$552 (b/gst)
AgeLes.Peel© Facial for Stressed & Tired Skin
(1hr 30min)
Book Now
S$552 (b/gst)
AgeLes.Peel© Facial with Collagen DEP.Therapy
(1hr 30min)
Book Now
S$598 (b/gst)
AgeLes.Peel© Facial with Elastin DEP.Therapy
(1hr 30min)
Book Now
S$598 (b/gst)
AgeLes.Peel© Facial with Vit.A,C,E DEP.Therapy
(1hr 30min)
Book Now
S$598 (b/gst)
Take the Time to Discover and Indulge in the Other Facials Best for Your Age and Skin:
Exquisite Facials – Truly Exquisite and Highly-Valued Swiss Facials
Signature Facials – Stellar Signature Facials with Impeccable Skin Results
Esthetic Facial Specifics – Top Skincare Treatments for Eye, Neck, Bust and Back
AgeLes.Peel© Facials – Ageless Beauty for Your Skin and Face
Matrix.Lift Facial with DEP.Therapy – Synergistic Long-Term Rejuvenation for Skin
Celebrity.Peel Facial – The Ultimate Non-Surgical Face Lift
CelluVie for Face – The Peel-Less Way to Beautiful Youthful Skin
Beauty, Facial & Skin Articles:
– Not Your Ordinary Microdermabrasion Facial
– 12 Top Facial Skin Tips for Great Looking Skin
– Facial Extraction: A Singapore Spa's Perspective
– The 5 Skincare Steps in A Top Facial in Singapore
– For the Best Facials for Expatriates in Singapore
– 9 Top Pre-Wedding Beauty Treatments for Brides
– A Facial Singapore Spa Feature for Beautiful Skin
– The Best Beauty Money Can Buy
– The Lazy Bride's Guide To Choosing The Right Bridal Facial