Spa Treatments:
Couple Spa Packages
Couple Spa Packages
[download Couple Spa Singapore PDF Price Menu]
Double The Bliss with A Couple Spa Package in Singapore
Our well-loved and blissful couple spa packages in Singapore centre on the ancient rich European traditions of "taking the waters". In present day's context, this is a series of highly therapeutic and yet luxuriating spa treatments. They are holistically designed to remineralise, nourish, rejuvenate or even tonify your body. And yet, they promote beauty, well-being and wellness within. To spice things up, there is even a romantic chocolate and honey-inspired couple spa package. So, read on to find out more on how you can double the bliss with your loved one.
An Enchanting Couple Spa Escape in Singapore
We have listed below our top couple spa package recommendations and some of the best ways to double the bliss. For those in the know, this is an enchanting and exotic couple spa escape. And you do not even have to leave Singapore. After all, our spa is so conveniently located in a tranquil and yet vibrant setting, in Singapore's Central Business District and exclusive Marina Bay precinct, nestled within the acclaimed 5-star luxury hotel, Marina Mandarin Singapore (also accessible from Level 3 Marina Square). An exciting spa sanctuary of choice for romantic couples to spend rejuvenating and yet private memorable times together in our elegantly appointed VIP Couple Spa Suites.
The Sweetest and Most Romantic Couple Spa Ever
So, immerse yourself in a truly little haven of paradise for a romantic rendezvous. You will also be reveling in some of the most luxuriating and exotic couple spa treatments and couple massages in Singapore. These include our ever-popular chocolate and honey-inspired couple spa treats for you to create sweet and magical memories with your loved one. Hence, it is not surprising that over the years, some of our popular couple spa packages won quite a number of prestigious beauty and spa awards.
Create Your Loving and Happy Moments Together Now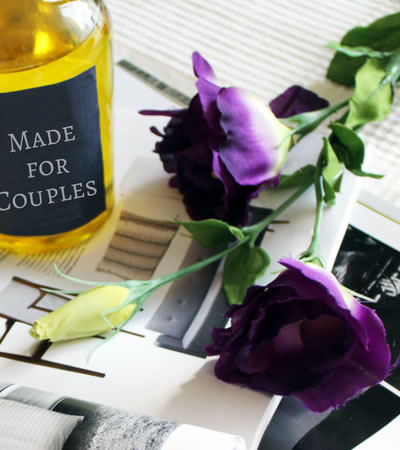 The good news, of course, is that you don't have to wait for Valentine's Day or your Wedding's Anniversary to enjoy them. So, book your memorable loving spa moments together now.
Choose Your Couple Spa Package:
Couple BlissTox Spa – A Detoxifying and Yet Blissful Couple Spa Package
Couple SensesTherapy – The Most Pampering and Holistic Couple Treatment
Choc.Honey Indulgence for 2 – A Most Romantic Couple Spa Experience
Couple Spa Treatment Recommendations – An Exhilarating Range of Couple Spa Treatments
[download Couple Spa Singapore PDF Price Menu]