Christmas Spa Gifts
9 Magical Ways To
Pamper Your Loved Ones
Spread the festive joy and spirit this Christmas holidays with some of the most indulging spa treatments in Singapore at ESTHEVA Spa. It's probably one of the best Christmas spa gifts you can give and share this Christmas 2019.
Gift A Magical Spa Experience This Christmas
You can always do this by pampering your loved ones with a magical day spa experience at ESTHEVA Spa, which they will cherish and always remember. After all, everyone loves to be treated to a luxurious spa treatment, be it a relaxing massage or a luxuriating facial. Especially, when it's at one the top luxury day spas in Singapore.
One of The Most Luxuriating
Christmas Gifts You Can Ever Give
Gifting a luxury spa gift from ESTHEVA Spa is more than just a Christmas gift or a last-minute gift option. To many, it's a godsend, especially when you run out of Christmas gift ideas or do not have the luxury of time. In addition, you also enjoy free, personalised and speedy home or office gift delivery in Singapore, aside from quick or even instant email delivery, with your spa gift purchase.
With ESTHEVA Spa, you can always gift with pride and confidence. Whether it's a Christmas gift package as an incentive reward for employees ; VIP clients for their loyal support; or simply a loving luxury gift for a loved one. And with our online spa gift system, it's really hassle-free and fast, whether it's for a single personalised buy or bulk corporate purchase of multiple gifts.
Best of all, a luxuriating spa treat is a real joy to give as it is to receive for Christmas or any time of the year.
A Magical Christmas
Spa Gift Promotion 2019
Hence, for this Christmas Spa Gift Promotion 2019, we proudly present ESTHEVA Spa's Christmas Magic Scrub with a Personalised Massage, 2 hours of pure indulgence and sheer pleasure [see raving past spa review below*], which consists of:
– Christmas Magic Scrub [choose one from selection of 9 luxury vintage scrubs]
– Personalised Massage [according to your personal needs]
Our Christmas Magic Scrub Gift Specials
– 1 (one) Christmas Magic Scrub Package for $292 (before GST) Usual Price: $325, or
– 9 (nine) Christmas Magic Scrub Packages for $2,628 (before GST) Usual Price: $2,925.
The 9 Magic Scrubs of Christmas
The recipient gets to pick an exhilarating body scrub from the following different 9 enchanting Christmas Magic Scrubs:
Citrus Fruits Scrub for Uplifting Spirits
Eucalyptus Ginger Scrub for Stimulating Circulation
Ginseng Energising Scrub for Invigorating the Body
Lemon Salt Scrub for Skin Radiance and Renewal
Lotus Fine Scrub for Nourishing the Skin
Marine Algae Scrub for Purifying the Skin
Rose Mint Scrub for Skin Toning
Sweet Orange Scrub for De-stressing Mind and Body
Tea Tree Scrub for Clear and Youthful Skin
Now, how magical can you get. So, spread some Christmas magic and cheer this Christmas 2019 with our Christmas Gift Promotion.
Purchase them as Christmas Spa Gifts for your loved and special ones in your life. Just add to the shopping cart below and we will do the rest.
An Even More Enchanting
Christmas Day Spa Package This Festive Season
Past Christmas Spa Promotion Review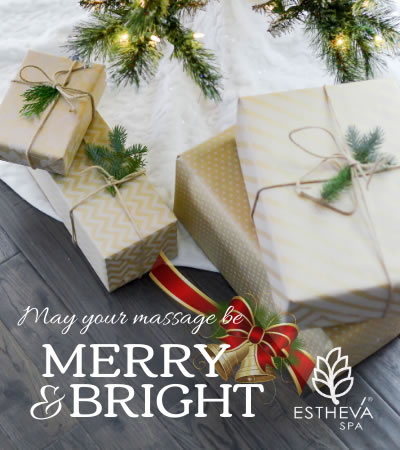 *Past spa review by thehoneycombers.com on the above Christmas Magic Scrubs.
"The ESTHEVA Spa at Raffles Hotel Arcade [we're now at Marina Mandarin] is pure indulgence. Ticks all of a spa retreat's essentials: quiet, cool and private. The body scrub smelled divine and is particularly suited for those with rough or dry skin, trust us – softness is guaranteed. But we were most floored by the personalised massage, which left us 110% relaxed. We dozed off a couple of times (it's that good) and we're happy to say we walked out tension- and knot-free. Definitely one of the best massages we've ever had."
– Just that we have improved the previous indulging spa package offerings and made it even more enchanting this Christmas.
Christmas Magic Scrub + Personalised Massage
The Perfect Christmas Gift For 2019 To Pamper Your Loved Ones
A magical Christmas gift with an unforgettable divine and indulging spa experience.
Let The Recipient Choose
Citrus Fruits Scrub
Eucalyptus Ginger Scrub
Ginseng Energising Scrub
Lemon Salt Scrub
Lotus Fine Scrub
Marine Algae Scrub
Rose Mint Scrub
Sweet Orange Scrub
Tea Tree Scrub
All 9 Christmas Magic Scrubs

Merry Christmas 2019 and Happy Gifting. And of course, Santa Claus did not say that you cannot enjoy the above magical Christmas gift promotion yourself.
Related Christmas Spa Offer
For an even more luxurious Christmas gift idea when you like to splurge a little bit more:
A Luxury Christmas Spa Gift (for more details) – to purchase, just click below.
Christmas Spa Offer
The Perfect Luxury Christmas Gift for 2019
A gift of love with an unforgettable blissful and yet Christmassy spa experience with Orange, Chocolate and Honey.
Orange & Choc-Honey Christmas Ritual
SGD 455.00 Read more