8 Loving Ways To Pamper Your Loved One On Her Birthday
– A Beautiful Birthday Gift Without Flowers
For a loving birthday present, don't just send flowers. Instead, surprise and pamper your loved one with a luxury birthday spa gift of a memorable experience at ESTHEVA Spa with our Birthday LuxeSpa Package. It will be one of the Best Birthday Gifts you can ever give and one that your beloved will lovingly cherish and always remember.
– With A Personal Touch The Way You Want It
With our exuberant Birthday Gift offer, you can choose from 8 luscious birthday spa packages, each for a different need and to suitably convey your best wishes with a personalised birthday message. The ultimate luxury Birthday Gift would be to buy all 8 Birthday LuxeSpa Packages so that the recipient can heartily luxuriate herself and at the same time, remember you throughout the year. All at the best promotional value and exclusivity any Spa in Singapore can offer. What's more, you can really bowl her over with a priceless personal touch with our free home or office gift delivery in Singapore and let her be the envy of all her friends and colleagues.
– A Highly Indulging Birthday Spa Gift
Our ever-popular Birthday LuxeSpa Package (probably the best-selling Birthday Spa Gift in Singapore, thanks to our many delighted fans), with 110 minutes of pure indulgence, consists of a:
– Birthday LuxeScrub and
– Luxurious Aromatic Massage
– 8 Luscious Luxury Body Scrubs To Choose From
The recipient gets to choose her favourite treatment for a heavenly spa experience with any of the following different 8 Birthday LuxeScrubs that best suits her needs:
Citrus Fruits Scrub – for Uplifting Mind, Body and Spirit
Eucalyptus Ginger Scrub – for Stimulating Circulation
Ginseng Energising Scrub – for Invigoration
Green Tea Scrub – for Youthful Radiance
Marine Algae Scrub – for Purifying
Rose Mint Scrub – for Skin Toning
Sweet Orange Scrub – for De-stressing
Tea Tree Scrub – for Deep Cleansing
So pamper and delight someone special on her birthday with an unforgettable luxurious day spa experience at ESTHEVA Spa. You can, also of course, celebrate with your beloved with any of our highly popular and exhilarating Couple Spa Packages.
Luxury Birthday Spa Gift Promotion
For A Wondrous Day Spa Experience
… For Your Loved One
– 1 (one) Birthday LuxeSpa Package for $268 (before GST) Usual Price: $320, or
– 8 (eight) Birthday LuxeSpa Packages for $2,144 (before GST) Usual Price: $2,560.
Purchase Your Priceless Birthday Gift Now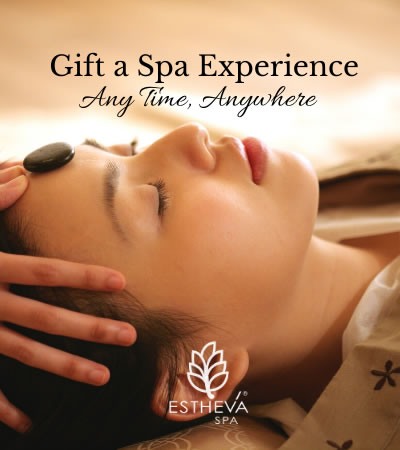 So, buy now by simply entering the Birthday LuxeSpa purchase details below and we will do the rest. And you will know why it's the loveliest and most sought-after Birthday Gift you can ever give. But more importantly, a real joy and priceless gift for your loved one to receive to feel and be her beautiful best.
BIRTHDAY LUXESPA Gift Offer
A Loving Birthday Gift of A Wondrous Day Spa Experience for A Loved One.
An Exuberant Birthday LuxeScrub (choose one) + Personalised Aromatic Massage
Let The Recipient Choose
Citrus Fruits Scrub
Eucalyptus Ginger Scrub
Ginseng Energising Scrub
Green Tea Scrub
Marine Algae Scrub
Rose Mint Scrub
Sweet Orange Scrub
Tea Tree Scrub
All 8 Birthday LuxeSpa Packages

Other Spa Gift Offers Articles:
– A Perfect Spa Gift Offer Of Love For Mothers
– A Perfect Birthday Gift Any Time Anywhere
– The Monday Blues Massage Offer