SPA CASH GIFT VOUCHERS
Always a Perfect Online Gift for Loved Ones
[Note: We have de-activated our online gift purchase because of the HOTEL's temporary full closure for renovation due to the current coronavirus pandemic situation – see our CONTACT page.]
Our Spa Cash Gift Voucher is one of the easiest and yet most loving online gifts in Singapore to safely buy online for your loved ones, family members, best friends or anyone who matters in your life. It is recent years, it has become a popular corporate gift for company events, such as annual dinner and dance, and as employee incentives.
Gift Voucher in Singapore for Any Occasion
It is also a great gift card idea, suitable for any occasion, be it for Christmas, Valentine's Day, Weddings, Birthdays, Mother's Day, Father's Day or Wedding Anniversaries. And more often than not, a precious or potential lifesaver, when you do not know what the recipient likes. Or when you are running out of ideas, choices or time.
A Gift Voucher of Desired Choice
Best of all, the recipient can use the cash gift voucher or gift card to redeem any luxurious spa treatment or facial she or he desires. It really takes out the hassle for the giver to decide or guess what facial, massage or spa treatment to buy for the recipient. A truly thoughtful gift and yet so convenient to purchase, every time and for any of your loved ones.
A Highly Popular Singapore Online Gift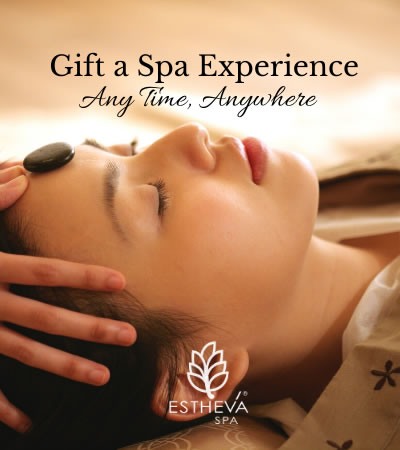 An ESTHEVA's Spa Cash Gift Voucher is simply the perfect luxury gift for one of the most indulging spa experiences in a top luxury day spa in Singapore. You can also be assured that the recipient or your loved one in Singapore will be in good loving hands. As a reputable day spa renowned for its professional services  and highly recommended by Singapore Tourist Board, our spa gift vouchers are highly popular around the world, with online gift orders from as far as London, Moscow and New York.
Yes, an online cash gift voucher that you can purchase, any time and anywhere.
A Personalized Gift Card Purchase
What's more, you can always add in your loving personal message on your spa gift voucher purchase when you check-out online. There is really nothing more heart-warming than a heart-felt or appreciative message on the gift voucher from the giver to the recipient.
Gift Voucher Delivery in Singapore
Last, but not least, you can choose to send your gift card voucher by email (as an e-gift card), normal slow mail, by hand or to be left at the Spa for collection or redemption. There is so much flexibility and ease in terms of your gift voucher delivery in Singapore. This is just one of the little but important things that we do for our customers who trust us to pamper their loved ones. And that is also why many individuals and organisations are buying our trusted gift vouchers on a regular basis.
Happy gifting and we look forward to taking good care of your loved ones or important guests.
Spa Cash Gift Voucher
Your Preferred Value in SGD - set your own amount
The perfect gift card of love and a real joy to give. Just enter the gift value of your choice (minimum of S$100).
Spa Cash Value Voucher
Popular Pre-Selected Amounts
The easiest online spa gift card to buy when you run out of ideas or do not have the luxury of time. Great for any occasion.
Let your loved ones redeem the spa treatments that they like.
Spa Membership Voucher
The Ultimate Spa Gift
Related Spa Gifts Articles:
– The Best Spa Gift Messages and Wishes
– 5 Good Reasons Why Massage Is Always A Perfect Christmas Gift
– A Perfect Spa Gift Offer Of Love For Mothers
– A Perfect Birthday Gift Any Time Anywhere
– 5 Reasons Why Buying Last-Minute Gifts Is A Breeze With Spa Gift Certificates