SPA GIFT CERTIFICATES
Gift An Indulging Spa Experience
…That Will Always Be Treasured And Remembered
[Note: We have de-activated our online gift purchase because of the HOTEL's temporary full closure for renovation due to the current coronavirus pandemic situation – see our CONTACT page.]
The gift of a pampering spa experience at ESTHEVA Spa will always be well-cherished and fondly remembered by the recipient. Especially, when you know the gift certificate is redeemable at a premium day spa with an exquisite array of well-loved bespoke beauty and spa treatments in Singapore.
Whether it's a simple manicure, beautifying facial or luxuriating massage. Or as a romantic or wedding gift for loving couples with our couple spa vouchers.
More importantly, as a giver, you are also assured that your loved one or guest will be professionally pampered and lovingly taken care of.
It's after all, a gift of love and thoughtfulness.
A Trusted Gift of Luxuriating Spa Experience
We are indeed heartened and honored that many of you have trusted us to pamper your loved one or important guest with your spa gift purchase. This is like the many top 5 and 6-star hotels in Singapore who often refer and entrust their VIP hotel guests to our care, whom we are privileged and proud to serve.
It's also no secret that Singapore Tourism Board had prominently featured our spa and innovative spa treatments to welcome foreign visitors to Singapore in its tourism campaigns.
A Relaxing Spa Haven
What's more, ESTHEVA is centrally located in Marina Mandarin Singapore, in the heart of the Singapore's bustling Central Business District and trendy Marina Bay precinct, enchantingly perfect for a brief respite or half-day spa getaway. Hence, our Spa Gift Certificates are truly a joy and pride to give and receive.
So Touch Someone Special Today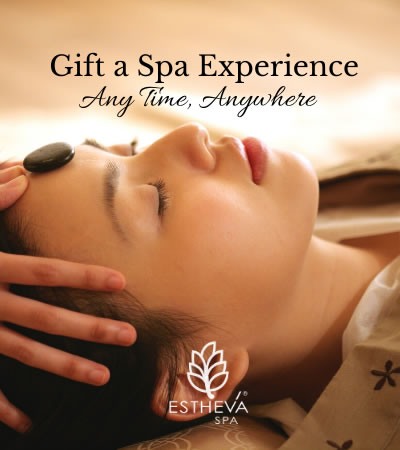 So, touch someone special with a beautiful and rejuvenating spa experience today. We have even included spa gift vouchers for pregnancy, with both pre-natal and post-natal massages and spa treatments. It will be one of the best spa gifts you can ever give.
Check out our selection of fine spa gift vouchers below or download our Singapore Spa PDF Price Menu to choose the spa treatments and experiences you would like to purchase.
It's so easy and hassle-free to purchase, any time and anywhere. Just select and click your online gift voucher purchase below and we will do the rest.
Related Spa Gifts Articles:
– A Perfect Spa Gift Offer Of Love For Mothers
– A Perfect Birthday Gift Any Time Anywhere
– The Best Spa Gift Messages and Wishes
– 5 Reasons Why Buying Last-Minute Gifts Is A Breeze With Spa Gift Certificates
– 5 Good Reasons Why Massage Is Always A Perfect Christmas Gift