The Best Christmas Gift of Wellness
It's the gift-giving season again and time to shop for Christmas gifts. This Christmas, why not give something different and give someone a Christmas gift of wellness in Singapore.
Always A Great Christmas Gift Idea
A wellness gift of a massage is always a great idea for the perfect Christmas gift for anyone and any budget. Whether it's for a loved one, a colleague, your best friend or even your boss. It may be that you are choosing corporate gifts for your company's annual dinner and dance over the festive holidays.
You can forget about shopping online elsewhere where you will be bombarded with lots of uninspiring choices. Or even shopping in the malls, especially when you are running short of time.
The Perfect Christmas Massage Experience
Yes, you are right. Why not gift a experience of a spa treatment or a massage. And in this case, we would like to be specific and make it easy for you.
That is, we would highly recommend our Equilibrium Massages, an award-winning collection of massages that have been a top and favourite personal and corporate gift of choice. And it will undoubtedly be one of the best Christmas gifts you can ever give. And it is so easy to purchase your gifts online, a few clicks and the Christmas gift voucher will be on its way. It's also a real life-saver when you need to shop for last-minute Christmas gifts.
Not Your Ordinary Massage
We are not talking about any ordinary massages here. It's a collection of 9 luxuriating signature massages so that you can choose or rather your recipient can choose the massage experience based on his or her preference. On top of that, you will also be comforted to know that this exquisite collection of massages won the prestigious Harper's Bazaar's Most Experimental/Innovative Massage Award.
Wonderful Award-Winning Body Massages As Christmas Gifts
So, let this Christmas be even merrier and brighter by giving our award-winning Equilibrium Massages as Christmas gifts. You can be assured that whoever receives your gift will be luxuriating in some of the best massages in Singapore. What's more, as mentioned, there are a total of 9 distinctively luxurious massages to choose from. Even Santa Claus will be more than elated to receive one.
Body Massages with Exquisite Nutrient Oil Blends
Meticulously and thoughtfully created, our Equilibrium Massages is a signature collection of 9 luxuriating body massages which uses premium and exquisitely-blended nutrient oils with beneficial and healing properties. It also performed using various but suitable innovative massage techniques of different intensities.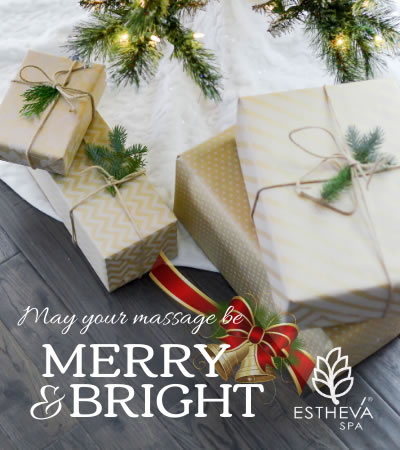 It is akin to letting you create your own personalised massage therapy. They can also easily be paired as couple massages as a Christmas gift for loving couples. How cool can you get.
A Gift of Pure Indulgence and Therapeutic Bliss
More importantly, each Equilibrium Massage is a wellness gift of pure indulgence and therapeutic awakening. It will sensually soothe away stress, energise and fortify your body or induce a state of peace and restfulness, and more. You will feel as if you are being transported to a new enlightened space or equilibrium. So that, there is always a perfect Equilibrium Massage for you to indulge in, "in the moment".
Choose Your Equilibrium Massage Christmas Gift
To help you select the perfect Christmas massage gift for your loved ones or anyone that matters in your life, here are our recommendations:
Beautifying Massage – An exquisite beautifying Christmas massage gift, to delight any woman in your life
De-Ager© Massage – One of the best Christmas massage gifts for mothers and fathers to feel younger again
Energising & Fortifying Massage – A fine perk-me-up Christmas gift, suitable for anyone or for any occasion
Happiness Massage – One of the best Christmas massage gifts to share the festive joy and bliss
Harmony Massage – A popular Christmas massage gift for harmony and wellness
Mental Clarity Massage – A perfect Christmas gift for high-achievers to bring focus and hopefully, clarity into their lives
Peace & Relaxation Massage – Always a thoughtful and indulging Christmas gift for someone you care about
Romantic Bliss Massage – A romantic Christmas massage gift for loved ones or loving couples
Senses Awakening Massage – Always a recommended Christmas massage gift for colleagues and bosses
What's more, you do not have to worry even if the recipient do not like the Christmas massage you have chosen as we can always change it to his or her  preferred massage opon redemption. This one of the few Christmas gifts and also a perfect last-minute gift that you simply cannot go wrong.
So, just click the Christmas gift below to purchase and add in your personalised Christmas message. And we will do the rest. You can also book any of the delectable massages for yourself for a merry and bright Christmas.
Related Spa Massage Articles:
– A Massage Every Top Executive Should Schedule
– In Quest Of The Best Massage Experience
– 5 Simple Tips To Get The Best Out of Your Massage
– The Best Massage Quotes
– A Massage Every Top Executive Should Schedule