Choosing The Best Couple Massage
For The Perfect Experience
A couple massage is one of the most important and endearing spa treatments in a couple spa experience. In fact, no couple spa session is ever complete without a massage. Hence, choosing the right couple massage is key to a blissful couple spa experience with a loved one or anyone who matters in your life.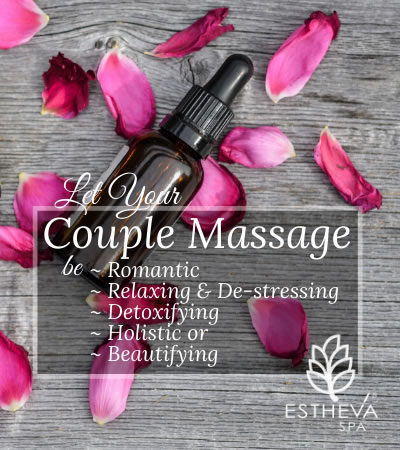 However, it should be noted that a couple massage is not just only for romantic couples. It can also be enjoyed by mother and daughter, with sisters and best friends as a couple. In addition, a couple massage experience is a great way to introduce a friend, relative or partner to the benefits of massage therapy.
First – Decide On The Type of Couple Massage Experience
To help you double the bliss, we recommend that you first decide on the type of couple experience you hope to achieve. Then you choose your couple massage accordingly. In this article, we have identified 5 different types of couple massages you can experience and the best recommended massage for each desired experience from our comprehensive array of spa massages.
Recommended Couple Spa Packages
We also recommended some well-sought-after couple spa packages that you can indulge in should you want more than just a couple spa massage. These couple spa packages will be perfect for important occasions such as Wedding Anniversaries or Valentine's Day. And they are of course a hot favourite as experience gifts for loving and married couples.
So, here are the 5 couple massage experience…
1. A Romantic Couple Massage Experience
For many loving couples, a romantic spa experience together is always the first choice. Hence, it is not surprising that a romantic couple massage is a hot favourite with loving couples, especially with honey-mooners or newly-weds. This will be best achieved by our signature Chocolatier Massage which uses chocolate as the main ingredient for a wildly exotic and yet heavenly experience.
In addition, we also recommend our Romantic Bliss Massage (one of our award-winning Equilibrium Massages), using an enchanting blend of essential oils specially customized for a romantic experience and executed with a soothing series of massage strokes.
Our Recommended Romantic Couple Massage: Chocolatier Massage or Romantic Bliss Massage
Recommended Romantic Couple Spa Package
[for a more complete romantic couple spa experience, you can also indulge in our Choc.Honey Indulgence for 2]
2. A Relaxing and De-stressing Couple Massage Experience
Sometimes, a busy loving couple may just want to relax and de-stress as they spend quality time together. This is probably one of the best lifestyles any couple can regularly indulge in to bond and yet rejuvenate themselves. For this, we highly recommend our Peace & Relaxation Massage (one of our award-winning Equilibrium Massages) using essential oils of selected plant and flowers with restorative and healing effects, for a truly deep-relaxing experience. This is probably the best couple massage for a perfect couple weekend with your loved one.
Our Recommended Relaxing Couple Massage:  Peace & Relaxation Massage
3. A Detoxifying Couple Massage Experience
To take the relaxation to the next level, a couple may want a blissful and yet detoxifying massage experience. To perform this couple massage role of helping the body to rid of toxins, we would recommend our Aviva Massage. This is one of our most beloved signature massages, which means the "Massage of Life". It is meticulously designed to help stimulate circulation and boost the body's ability to eliminate wastes and absorb nutrients. This is one couple massage that takes the more mundane couple spa experience to an even healthier level.
Our Recommended Detoxifying Couple Massage: Aviva Massage
Recommended Detoxifying Couple Spa Package
[for a detoxifying couple spa package, we recommend our Couple BlissTox Spa]
 4. A Holistic Couple Massage Experience
To deepen the bonding, a couple may want a holistic massage experience to awaken the inner senses within. For this, we highly recommend our Senses Awakening Massage. This highly uplifting massage essentially capitalizes on the healing powers and fragrance of pure botanical essential oils and the massage therapist's intuitive touch. As a result, it will enhance sensuality, uplift your mood and as well as awaken your wellness within for an overall feeling of heightened well-being.
Our Recommended Holistic Couple Massage: Senses Awakening Massage
Recommended Holistic Couple Spa Package
[for a exquisite and holistic couple spa package, we recommend our award-winning Couple SensesTherapy]
5. A Beautifying Couple Massage Experience
Lastly, indulging in a beautifying and yet rejuvenating couple massage experience is a great way for mother and daughter, sisters or best friends to bond as a couple. And, what better couple massage to achieve this than our Beautifying Massage (one of our award-winning Equilibrium Massages). It is a highly popular and mesmerising massage using pure botanical essential oils for you to discover your inner and outer beauty. It will definitely uplift your mind and spirit, and at the same time leave your body energised; and your skin hydrated, nourished, silky smooth and radiant. Hence, it is no wonder that this is one of our best-selling massages for ladies.
Our Recommended Beautifying Couple Massage: Beautifying Massage (one of our award-winning Equilibrium Massages)
May Your Couple Massage Experience Always Be Magical
We hope the above recommended couple spa massages will double the bliss for you and your beloved as you desire. Whether you want your couple massage experience to be romantic, de-stressing, detoxifying, holistic or even beautifying.  Yes, we lovingly offer them all.
Indeed, we are one of the few top spas in Singapore that is able to provide such a comprehensive and yet personalized couple massage spa experiences. This has been largely due to our unique Equilibrium Massage, a collection of 9 signature massages, which won The Best Innovative and Experiential Massage, awarded by Harper's Bazaar. Hence, it is no surprise that we are considered as one of the best couple spas in Singapore, for those in the know.
You, can of course, choose any of our highly-prized couple spa packages as well, which include other carefully selected body spa treatments for an even more holistic and enchanting couple spa experience.
May your couple massage or spa experience with us always be magical.
[download Couple Spa Singapore PDF Price Menu]
Related Spa Massage Articles:
– Massage and Its Many Benefits
– 5 Good Reasons Why Massage Is Always A Perfect Christmas Gift
– 5 Simple Tips To Get The Best Out Of Your Massage
– A Massage Every Top Executive Should Schedule
– A Quick Guide To The Best Massage For Your Body
– In Quest Of The Best Massage Experience
– The 8 Most Popular Massages in Singapore
– The Best Massage Quotes
– The Monday Blues Massage Offer
Check Out and Experience Our Award-Winning Massages:
Signature Massages – Award-Winning and Exotic Singapore Signature Massages
Equilibrium Massages – Award-Winning and Innovative Singapore Massages
Specialized Massages – Delightful Professional Massages for Specific Needs, including Natal Massages
Other Massages – Indulging Head and Foot Massages
[download Spa Massages Singapore PDF Price Menu]