Give Your Loved Ones A Luxury Spa Gift This Valentine's Day
The Perfect Valentine's Day Spa Gift of Love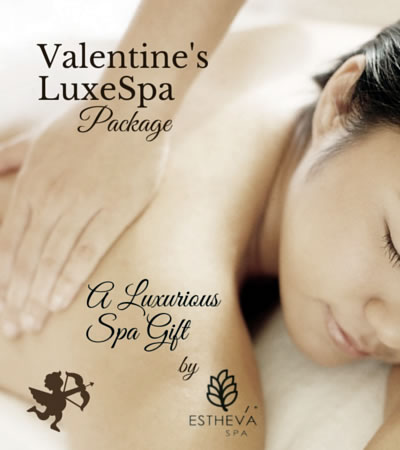 Make this Valentine's Day a time for an unforgettable indulgence with a luxury Valentine's spa gift. Pamper your loved and special ones with a magical day spa experience they will remember at ESTHEVA Spa. Everyone loves to be treated to a luxurious spa treatment, relaxing massage or just a pampering facial. And it's more than a great last-minute option when you run out of ideas or are really time-stressed when it comes to shopping for the perfect Valentine gift.
A Well-Treasured And Romantic Gift
At ESTHEVA Spa, you can also purchase with a peace of mind, a luxury gift for your girlfriend or spouse as a token of your love. For those in the know, our luxury day spa treats are always well-treasured during this romantic and any time of the year.
This Valentine, we present ESTHEVA Spa's Valentine's LuxeSpa Package, comprising:
– Golden Honey Scrub and
– White or Black Chocolate Massage
[ a full 2-hour and 40-minute session of pure indulgence and sheer bliss ]
There is nothing more enticing and indulging than this as a Gift of Love.
Valentine Spa Gift Promotion [ till 28 February 2020 – by popular demand]
Purchase a Valentine Spa Certificate of:
– Valentine LuxeSpa Package for only $455 (bf GST) Usual Price: $520
Purchase Your Valentine Gift Here Now
Buy them as Valentine Spa Gifts for your loved ones or for those you care. Just enter the purchase details below and we will do the rest.
VALENTINE'S LUXESPA PACKAGE
The Perfect Luxury Valentine's Day Gift of Pure Indulgence
A delightful luxurious spa experience with honey and chocolate.
Related Spa Offers and Related Spa Articles:
A Romantic Valentine's Spa Gift With 9 Wellness Scrubs
Why A Spa Gift Voucher Is One Of The Best Valentine's Gifts You Can Ever Give