A Perfect Christmas Gift
There are many good reasons as to why a spa massage is always a perfect Christmas gift. Or as a matter fact, a perfect gift for any occasion and for anyone who is able to enjoy a good massage. Whether it is for a loved one, friends or associates. And even as a corporate gift to reward employees or as an appreciative gift for business partners.
Here are our top 5 good reasons as to why a massage should be at the top of your shopping list for a gift for Christmas or for any occasion and celebration. Well, if you are thinking of getting an OSIM massage chair as a Christmas gift, at least read this article first.
1. Massage as A Gift of Love and Thoughtfulness
First, when you purchase a massage as a gift, it is always out of love and thoughtfulness for a loved one or for anyone that matters in your life. This is because there is so much that the recipient will receive from receiving a massage as an highly experiential and indulging gift that few other gifts can offer. A good professional massage will certainly uplift and raise any spirit, in addition to all the wellness benefits.
2. Massage as A Gift of Wellness
The wellness benefits of a massage for the body, mind and soul are numerous and highly sought-after since ancient times. Any regular patron would definitely attest to it. The benefits range from stress-relief, pain removal to raising creativity, work performance and spirits. Indulging in one, whether before or after the holidays and revelry, is always a good idea, to energise, rejuvenate or even detoxify oneself.
3. Massage as A Highly-Valued and Perfect Gift
Hence, a good professional massage is always a perfect gift anytime and highly-valued by anyone. The last thing you want is a gift that the recipient does not appreciate or has no use for. And a good massage at a premium spa is always something to look forward. Thus, you can always be assured that a gift of massage is always a joy to give and to receive.
4. Massage as An Environment-Friendly Gift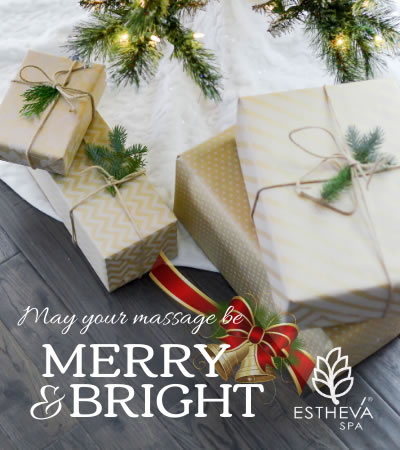 In addition, a massage is always an environment-friendly gift, in that it is a gift of an experience, that will appeal to many. You do not want to buy a gift that is of no particular use to the recipient or one that the recipient will feel guilty in indulging at a cost to the environment in making it. There is also no waste in that the product will be discarded if it is not suitable to the recipient. Hence, you can always be assured that a Christmas massage will be merry and bright.
5. Massage as A Gift Which Is Easy and Convenient To Purchase
Lastly, a gift of a massage can be easily purchased online conveniently, anywhere, anytime and with almost immediate delivery by email as a spa gift certificate. There is no last-minute frenzy in shopping for a gift or racking your brains for gift ideas for a suitable gift. And of course, you can always add in your loving message on the massage gift certificate with your purchase.
Your Choice Gift Purchase for Christmas
So the next time, you need to buy a Christmas gift, consider the perfect holiday gift of a massage. You cannot be wrong with so many good reasons for your choice of purchase. There are also so many types of massages that you or your recipient can choose from. You will be truly sharing and spreading the joy and spirits of Christmas over the holidays.
Related Posts – Christmas Spa Offers:
– The 12 Magic Scrubs of Christmas
– A Luxury Christmas Spa Gift
Related Spa Gifts Articles:
– A Perfect Spa Gift Offer For Mothers
– A Perfect Birthday Gift Anytime
– The 8 Most Popular Massages in Singapore
– The Best Spa Gift Messages and Wishes
– Why A Spa Gift Voucher Is One Of The Best Valentine's Gifts You Can Ever Give
Check Out and Experience Our Award-Winning Massages:
Signature Massages – Award-Winning and Exotic Singapore Signature Massages
Equilibrium Massages – Award-Winning and Innovative Singapore Massages
Specialized Massages – Delightful Professional Massages for Specific Needs, including Natal Massages
Other Massages – Indulging Head and Foot Massages
[download Spa Massages Singapore PDF Price Menu]