We're Are Now Centrally Located At Marina Mandarin Singapore (rebranded PARKROYAL COLLECTION Marina Bay from 1st January 2020)
Yes, we have moved out of Raffles Hotel in its Arcade in February 2017. This is due to the closure of Singapore's legendary hotel for a major 18-month long face lift. We are really sad to leave Raffles Hotel, like all the other prestigious tenants like Chanel, Tiffany and Hour Glass. Needless to say, what we miss most at Raffles Hotel will be the well-manicured and luxuriant lawn. It was just in front of our Spa, popular with many local and overseas couples as a top wedding venue. This was what attracted us to Raffles Hotel in the first place.
Nevertheless, we are glad to have found a new home, in another internationally-acclaimed 5-star hotel at PARKROYAL COLLECTION Marina Bay Singapore, (formerly Marina Mandarin), opposite to Suntec City. Here's some information about the new location and what you can expect at our new enchanting spa in Singapore.
A Centrally-Located and Vibrant Spa Location
First, the location. We are indeed fortunate to have found one which is in the heart of Singapore's Central Business District. It is surprisingly tranquil and yet vibrant at PARKROYAL COLLECTION Marina Bay Singapore, which also within Marina Square Shopping Mall, in the trendy Marina Bay precinct.
As such, we are easily accessible via various modes of transportation. Taxis are readily available at the hotel's entrance. And the nearby Esplanade MRT Station is within a few minutes' walk and City Hall MRT Station, within 10 minutes'. Another plus is that there is direct access to Marina Square Shopping Mall (via Level 3). In addition, our spa is within walking distance of popular tourist attractions such as the Esplanade – Theatres on the Bay, Gardens by the Bay, and the Singapore Flyer. We are also just opposite to Suntec Singapore International Convention & Exhibition Centre. And not to mention, we are situated trackside of the Singapore Grand Prix Formula One race.
An Iconic and Prestigious 5-Star Hotel with its Unique Architecture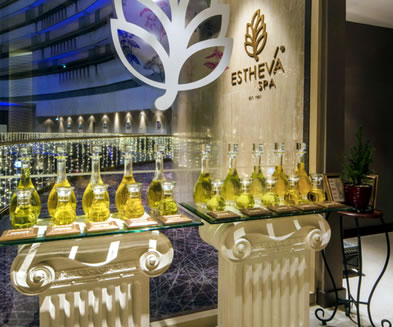 Besides the ideal location, we are really proud to be nestled within an internationally-acclaimed hotel which was designed by world-famous architect, John Portman. The hotel was designed with an open towering atrium which rises though 21 levels and is bathed in natural light. Each of the hotel's 575 rooms is accessed from the balconies overlooking the atrium, and has stunning views of Marina Bay and the city skyline.
Our spa is on Level 5 with a full view of the towering and cavernous atrium. We are also just next to the Hotel's mineral pool (one of the very few in Singapore). Hence, our hotel and spa guests can take a dip in the pool which has skin soothing effects before their spa treatments. And the ladies can have a wonderful get-together at the pool which can be arranged with any of our spa party packages.
A Full-fledged Day Spa with Excellent Facilities and Amenities
Next, and equally important are the full-fledged spa facilities and amenities within our charming and yet soothing day spa with an enchanting and elegant environment which we have created. These include well-appointed spa treatment rooms and couple spa suites with en-suite showers and steam rooms, separate retreat spaces for both genders and overly-spacious restrooms.
It is like entering into another world as you step into our spa to indulge in our holistic and pampering spa treatments, for which we are renowned for. This is where you can disconnect from the outside world and enter a state of peace and inner self.
Always a Beautiful and Rejuvenating Spa Experience
Lastly, this is a place where you can comfortably and always have a beautifying and rejuvenating experience. It is like embarking on a personal journey of beauty and rejuvenation. We hope you can join us as part of our ever-increasing and loyal clientele as we embark on the next chapter of our spa history in continuing the ancient art of enhancing beauty and wellness and to create some of the best spa treatments and experiences in Singapore.
A Holistic Oasis in The City
Hence, we hope you will love our new spa location which we know many have. In fact, we are seeing more top business executives on a regular basis from the nearby offices in Suntec City. And of course, shoppers from Marina Square Shopping Mall. They are obviously very glad that we have relocated to Marina Mandarin Singapore. It's really perfect for them for a short and well-deserved respite, any time they need one. It's like being in a holistic oasis in the heart of Singapore's Central Business District. So near and yet so far from the maddening crowd.
May your personal journey of beauty and rejuvenation begins here.