Our Top and Award-Winning Spa Facials in Singapore
For the last 20 years, ESTHEVA Spa has been helping women achieve healthy and younger-looking skin for their age with our luxuriating professional facials.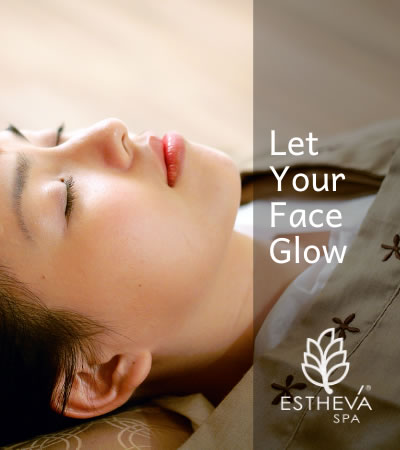 These signature facial treatments are performed by our well-trained facial spa therapists with pride and almost unsurpassed results. Hence, to appreciate why we provide some of our best and most coveted face and skincare treatments in Singapore, we will take you through the essential but intricate steps of our top spa facials (some of our best facials are listed below) and the exquisite way we execute them.
Basically, there are 5 essential facial rituals or steps that we have decoded. Whether it is for the latest anti-aging facial, the best brightening facial or the ultimate microdermabrasion facial fix. These facial facts will also let you into some of the unique intricacies of our award-winning facials – as listed below.
Finally, you will learn the importance of and what goes into each meticulous facial step or process to help your skin be youthful-looking and glowing radiantly, inside out. These may include the skin technique, equipment or active ingredients used. So, read on to find out more and let your face glow.
– Top Facial Singapore Awards by Harper's Bazaar
C-Matrix© for Eyes with Caviar –  The Most Pampering Eye Treat Award
Intensif BustContour with Hydro and Lipo Ampoules – The Best Bust Care Award
Celebrity.Peel© – The Best Microdermabrasion Award
Matrix.Lift© with DEP.Therapy –  The Best Age-Reversing Facial Award
C-Matrix© Vitamin C Brightener –  The Best Brightening Facial Award
C-Matrix© Whitening Facial – The Best Whitening Facial Award
– Top Facial Singapore Awards by Her World
Matrix.Lift© with DEP Therapy – The Best Lifting Facial Award
C-Matrix© for Eyes with Caviar –  The Best Eyecial for Lifting Award
Facial Step #1 – Face & Skin Analysis
Our professional face therapist will thoroughly and objectively analyse your face's skin before treatment. An optimized skincare solution and treatment plan will be mapped out for you on a consultative basis to address your specific skin needs and problems. This is to also ensure that the prescribed facial treatments match both your short-term and long-term desired objectives.
Hence, with our wide range of highly-innovative and proven skin treatments, we are more than confident of delivering the best, safe and unrivaled skincare results for your skin. These may even include skin treatments for the eyes, neck or bust. They are even exquisite facials for skin whitening effects. After all, the pursuit of beauty is a never-ending process, especially for the ladies. Now, once this is out of the way, you are now ready for the next professional facial step.
– Your Recommended Daily Home Facial Regime Included
And of course, after the skin analysis, you will not want to leave out our luxury Swiss skincare products as prescribed for your skin as part of your luxuriating daily skincare regime. It is an essential part of your journey to glowing skin and a flawless complexion. What's more, it is like taking a bit of ESTHEVA Spa home with you.
Facial Step #2 – Face Cleansing
This is the next important step of any professional facial – to ensure that your face is perfectly cleansed with the removal of any dirt, grime and even chemical pollutants. Hence, we will meticulously clean out any clogged pores for the skin to breathe freely and prevent blackheads and breakouts. We are quite fastidious as to the cleanliness of your face and that is why we are a firm advocate of facial extraction, which is also an effective facial remedy for those with acne-prone skin, when deftly performed by our facialists.
We can read our article, Facial Extraction: A Singapore Spa's Perspective, for our views on this hot and recurring facial debate in Singapore, or any part of the world.
– More Than Just A Thorough Facial Cleanse
In addition, this facial cleansing step will help to address and repair any free radical damage due to sun exposure. Finally, the above step would not be impeccably achieved without our top luxuriating Swiss cleansing skincare with its unique blend of innovative Swiss Alps botanical ingredients coupled with curative Swiss Thermal Water.
Facial Step #3 – Face Exfoliation
Now, this is the phase where we do the heavy lifting and where the magic begins to work for your skin. While we still adhere to the basic and traditional principle of removing dead skin cells to aid cellular renewal, we have taken this step to the next level. The secret lies with our top-of-the-line microdermabrasion system – pioneered and engineered by the Italians. This is why microdermabrasion is also sometimes known as the Italian Peel. Hint – it's the equivalent of a Lamborghini or Ferrari for fast cars.
– With Microdermabrasion: The Ultimate Facial Exfoliation
In the deft and expert hands of our highly-trained therapists, your skin will be gently exfoliated to reveal shades of pink. The underlying skin results of this step are multifarious. It stimulates the production of collagen and elastin and boosts the skin immune system. It will also improve circulation which helps to refine pores and wrinkle lines.
All these will culminate into a long-lasting  and radiant glow that every woman dearly desires.  Hence, it is no surprise we bagged The Best MicroDermabrasion Award with our highly coveted and beloved Celebrity.Peel© facial.
Facial Step #4 – Face Nurturing
With today's skincare technology and product development, the skin can be more efficiently fed with active skincare ingredients or serums (such as Vitamins C, collagen and caviar) at a deeper penetration level than ever. At ESTHEVA, we are using a highly advanced and non-invasive Transdermal Delivery System (DEP.Therapy in short, for skincare use). It was the first process to be cleared by US FDA (Federal and Drug Administration) as an alternative to injections.
And for those in the know, we are also famous for some of the best proprietary masks around. This is not just in Singapore but also in Asia. This is our Collagen-Matrix, a unique patented natural mask of collagen with healing properties in its purest form which is able to promote high rates of protein and DNA synthesis.
– Energizing Skin Cells to Work Optimally
As such, with the increased hydration and deeper active ingredients penetration, we greatly energise and prime the skill cells to work at an optimal level for beautiful, safe and longer-lasting skin results. This is one of main reasons why our top facials and skin treatments are so highly prized, especially by the ladies, for its unsurpassed skincare results.
Hence, it is no wonder that our Matrix.Lift with DEP.Therapy won not one but two facial awards. It bagged The Best Age-Reversing Facial Award by Her World and The Best Lifting Facial Award by Singapore Harper's Bazaar.
Facial Step #5 – Face Balancing
Lastly, this step will help to soothe and calm the skin and to bring it into balance after all the meticulous and yet luxuriating care and attention it had been receiving. For this, we have perfected our proprietary holistic blend of Soothing Lotion over the two decades of our experience.
– The Extra Facial Beautifying Factor
This amazing secret lotion will not only help to alleviate any inflammation or irritation. But also to luxuriously lock in the beautiful skin results achieved in the preceding steps, for a longer-lasting, healthy glow. This is what most facial spas or salons neglect or do not pay enough attention to. It is also why our exquisite facials (beyond tried-and-tested) are so well-loved and sought-after by our regular clients.
Delivering Top Facial Results In 5 Ritual Steps
Hence, the above basic and yet luxuriating 5 facial steps and the extraneous and meticulous care that go into each of them, will definitely go a long way for you to glow and look naturally younger for your age. And without any medical surgery, whatsoever for safe and long-term results. This is something we do not just promise, but have delivered with distinctions to all our loyal, discerning and raving fans, especially the ladies. Most of them, if not all, look at least a decade or more younger for their age. This is our greatest satisfaction. Even more than any of the many prestigious spa awards and accolades that we have garnered over the years. Whether they are from the local or international media, celebrities and royalties. Or even from world-class organisations such as Singapore Tourism Board, Raffles Hotel and Singapore Airlines.
Our Gift to You To Look Beautifully Younger
So, let this be our gift to you to glow beautifully and age gracefully over the years. And of course naturally, without going under the knife. Hence, there is every reason for you to indulge in our professional luxurious facials with confidence on a regular basis for maximum beautiful skin results, which you never thought possible naturally. Whatever your age.
So, book your facial appointments now. [download Facial Spa Singapore PDF Price Menu]
Related Beauty, Facial & Skin Articles:
– 9 Top Pre-Wedding Beauty Treatments for Brides
– 12 Top Facial Skin Tips for Great Looking Skin
– For the Best Facials for Expatriates in Singapore
– The Best of Extraction Facials with Non-Extraction Techniques
– A Facial Singapore Spa Feature for Beautiful Skin
– The Best Beauty Money Can Buy
– Not Your Ordinary Microdermabrasion Facial
– The Lazy Bride's Guide To Choosing The Right Bridal Facial
More on our Spa Facial Services in Singapore.
[download Facial Spa Singapore PDF Price Menu]